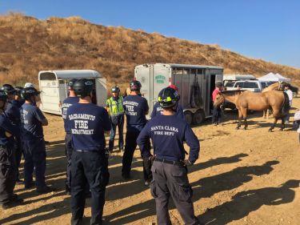 The UC Davis School of Veterinary Medicine (SVM) and the UC Davis Fire Department recently orchestrated a large animal rescue component for this year's major emergency services resilience challenge, Urban Shield 2017. Representing one of four technical challenges for urban search and rescue (USAR) teams across the region, this was the first time animal rescue was featured at the event.
Urban Shield is an Alameda County (CA) regional preparedness exercise that assesses the overall Bay Area Urban Areas Security Initiative's regional response capabilities related to multi-discipline planning, policies, procedures, organization, equipment and training. The program tests regional integrated systems for prevention, protection, response and recovery in high-threat, high-density urban areas. The overarching goals of Urban Shield include striving for the capability to present a multi-layered training exercise to enhance the skills and abilities of regional first responders, as well as those responsible for coordinating and managing large scale events.
Jim Green has spent the last several months working at the SVM to develop integration of first responders and veterinarians in dealing effectively with emergencies and disasters involving animals. He is the director and co-founder of the British Animal Rescue and Trauma Care Association (BARTA) and a fire officer and animal rescue specialist in his native United Kingdom. In the UK, 90 percent of fire departments have animal rescue components, and veterinarians receive augmented training through BARTA.
Urban Shield planners reached out to Green to organize and facilitate a scenario that would mimic a real-life challenge that a USAR team might encounter.
The scenario Green organized revolved around a trail riding accident involving a fallen horse that suffered a repairable fractured leg. The horse owner and riding companions remained at risk from the injured animal (represented by a life-sized mannequin), and the presence of live animals and riders from the Alameda County Sheriff's Mounted Posse enhanced the reality of the exercise.
Dr. Claudia Sonder, DVM, an equine specialist and director of outreach at the SVM's Center for Equine Health, participated in the exercise. She assessed the situation and went through the steps involved in order to anesthetize the horse. The mannequin was then packaged on a glide sheet for recovery from a difficult canyon location using rope systems into an awaiting horse trailer. Dr. Sonder worked closely with the USAR teams to develop an extrication plan, taking into consideration the welfare of the horse and the time constraints associated with field anesthesia.
Preparedness for incidents involving animals is a growing skill set being adopted by a range of agencies that encounter animals in the course of their operational activities. Recent natural disasters have highlighted the importance of considering animal safety and welfare, as both are inextricably linked to the welfare and safety of humans, and have economic and environmental implications following a wide-scale emergency or disaster. In addition, rescuers require a completely different philosophy in their approach to injured animals – unlike humans who are reassured by rescue teams, animals often perceive them as a risk and act accordingly.
"This was an amazing opportunity to demonstrate the complexities of incidents involving animals and the need for greater understanding and training on all levels," said Green.
The UC Davis team was joined by John and Deb Fox, firefighters and seasoned animal rescue specialists with the Large Animal Rescue Company, and trainers and authors of the California State Fire Marshall-accredited technical large animal rescue training.
"This weekend was a huge team effort by UC Davis, the Large Animal Rescue Company and an amazing group of budding amateur dramatists from the Alameda County Sheriff's Mounted Posse," Green added. "I am confident that awareness is being raised about this challenging subject and the very real needs of the community are being addressed as emergency services and veterinarians understand each other's roles in mitigating risk and meeting societal needs."
The SVM and BARTA will host the Incidents Involving Animals Conference at UC Davis on October 21-22. The seminar will support further knowledge, development, and training for first responders, veterinarians, county/state animal rescue team members, animal control officers, and others with responsibilities toward developing emergency plans.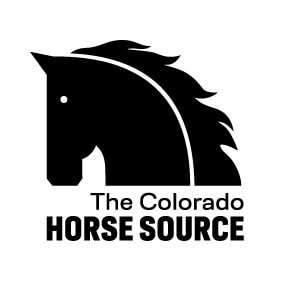 News from the horse industry. Sharing today's information as it happens. The Colorado Horse Source is not responsible for the content of 3rd party submissions.