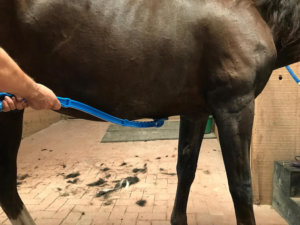 Announcing Scratch Me Silly®, the ultimate belly scratching tool! Developed by ScratchnAll, makers of the popular animal scratch pads, Scratch Me Silly is an ergonomically designed and contoured tool that makes scratching the horse's belly and other hard-to-reach spots easy.
This unique product performs as an animal enrichment and desensitizing tool for use on all kinds of animals. People also enjoy using Scratch Me Silly on their own feet. It's easy to reach the feet even when sitting comfortably in a chair. The action of Scratch Me Silly will increase circulation to the feet and toes.
All horses will benefit from being touched and scratched by Scratch Me Silly. Its 32-inch length extends the reach, allowing users to stand upright and scratch those hard-to-reach spots like belly, croup, crest, and back, while remaining at a safe distance. Scratch Me Silly weighs just one pound and is triangularly shaped with rounded corners.
Scratch Me Silly is sold singly or bundled with four black ScratchnAll Pads. For more information or to order go to www.scratchnall.com or call 888-972-7282.
Founder Cynthia Garry is often asked "how did you ever get into this?" This is her story – click here to listen: https://soundcloud.com/user-117983170/the-story-of-scratchnall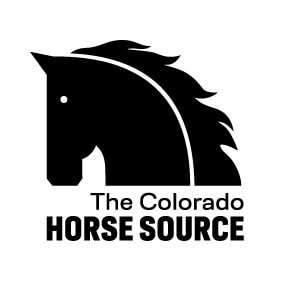 The Colorado Horse Source is an independently owned and operated print and online magazine for horse owners and enthusiasts of all breeds and disciplines in Colorado and surrounding area. Our contemporary editorial columns are predominantly written by experts in the region, covering the care, training, keeping and enjoyment of horses, with an eye to the specific concerns in our region.