Revealing the Heart of an Animal
Interview by Kim Roe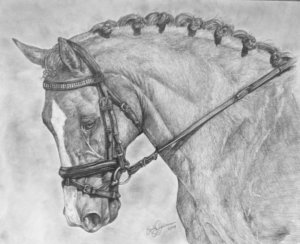 How long have you been an artist and what are your specialties?
I grew up surrounded by art. My mother has always been an art teacher, and I learned from her. I've been an artist all of my life.
I started drawing other people's horses in high school then graduated with an art education degree from Calvin College in 2011. After that, I worked as a middle school art teacher for a few years and then as a museum educator for a few years.
I am currently working part-time as a groom for dressage trainer Garyn Heidemann and working on horse and pet commissioned artwork. My specialty is black and white pencil drawings of horses and pets–– mostly dogs. 
How have you been involved with horses?
 I've been riding horses since I was about seven years old, starting on Haflinger horses owned by Dan and Emily Gibson of Briarcroft Haflingers. I took lessons on and off as a kid when I could, competed with the IHSA in college, and then started riding dressage after I graduated.
I'm currently riding Wheaton BCH of Briarcroft Haflingers. He is affectionately known as Tony the Pony. We mostly ride dressage, and enjoy trail riding, jumping, and going on fun adventures together. 
What commissioned work do you offer animal lovers?
My favorite part about my work is learning about the personality and quirks of each animal I draw. I like to get a little background information on the animal as well as lots of pictures. It really helps me capture the spirit of each animal I draw. Many of the commissions I get are of pets and horses that have since passed on. I feel honored to create a unique memento for animal lovers of their beloved pet. 
With nearly every memorial portrait I draw, I cry right along with the owners as they tell me about the life of their wonderful animal. Some of my favorite pieces have been commissioned by groups of friends for someone who has lost a beloved animal. I've been surrounded by animals my entire life and know that each one has a unique personality. I try very hard to bring that out in my work. 
Describe the "Paint Your Pony" workshops.
In a Paint Your Pony workshop, I draw the outline of people's horses (or other animals) from photos received ahead of time. Then I guide participants through painting their own canvas, resulting in a wonderful unique work of art. 
There is no pressure in a Paint Your Pony workshop, and the drawing is all done for you, so many people who would never consider themselves artists find success in these classes. Many people come back again and again to create paintings of each of their horses. It's fun and relaxing, and I think everyone goes home with a beautiful work of art. I offer classes when I can, and I am always available for private parties. 
What are your dreams and goals?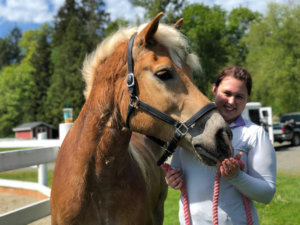 Ultimately, I would like to be able to do my art more or less full-time, while working with horses in some capacity. I love what I do now – grooming for a dressage trainer. I get to interact with many different horses on a daily basis, and I still have time for artwork on the side. 
On the riding side of things, I'd love to have Tony going at third level eventually. Anything above that would be icing on the cake! It's most important to me that he's happy and we enjoy our time together.
Long-term, I'd love to find an equine partner that can take me to the FEI dressage levels, but that's still in the distant future! 
Contact Emily by email at [email protected]. More info at www.strikingchestnutstudio.com. Or on Facebook at Striking Chestnut Studio.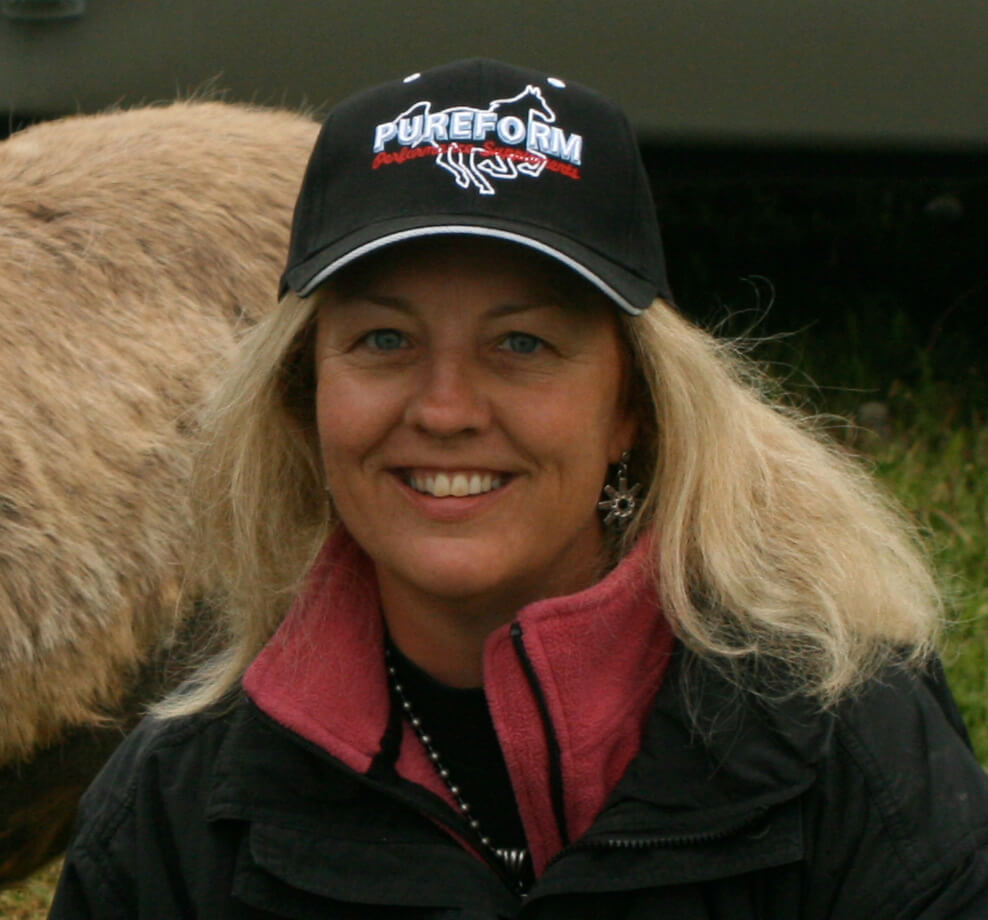 Owner/Publisher Karen's lifelong love of horses began at a very early age when she wore out a couple of rocking horses before convincing her parents to get her the real thing. That ill-tempered bay gelding, Brandy, was a challenge for the young horsewoman, but it drove her ambition to become a horse trainer. After attending Canyonview Equestrian College's Horsemanship Program, Karen realized she needed work that was a little more lucrative than training, so she took a job with Customs Brokerage to pay the bills. There, she discovered an affinity for computers and a talent for creating informative, entertaining newsletters. The Northwest Horse Source began as such a letter in December 1995, with a distribution of 1000 copies for its 12 black and white pages.  Now 25 years later, it's an online magazine and website with a reach of over 10,000 per month and growing! Not bad for the results of one woman's dream to work with horses!
Today, Karen remains involved with every aspect of the magazine and treasures the community of thousands who share a common passion. Now excited to start a version of her original magazine in Colorado!