It's Hard to be Patient
by Karen Pickering
I LOVE sorting. trail competitions and trail riding. It's been a rough couple of years with April's Navicular recovery. I have had amazing help with the barefoot trims, using hoof boots and watching improvement from time to time. April has quite a few health challenges. What saddens me is the thought that I'm the reason she's not been sound.
In 2009 we discovered she had Navicular disease. I went from trying bar shoes, pads, wedge pads and different types of shoes to keep her sound. Nothing seemed to be a permanent solution. I finally had several people keep after me until I agreed to pull her shoes and let her run barefoot.
She has been off and on sound but never 100% comfortable. I know she needs exercise. It's critical to improving health. When Mark had his stroke in December of 2014, all horse activities came to a halt. She's virtually had very little exercise until recently as I'm trying to get her back to some sort of comfort. Exercise seems to be the key to getting a resolve to this unsoundness and pushing through some discomfort for her.
https://www.youtube.com/watch?v=RIrW5oSYieQ&feature=youtu.be
I have had wonderful help and attention from Samra (Skoshie) Davis. She takes great joy in rehabbing these lame horses that everyone else has given up on. Most recently we've discovered that it's not so much about the navicular anymore as it is laminitis. As soon as the green grass hit I noticed the lameness seemed to return with a vengeance. So, much to April's dismay we've pulled her off grass altogether and put her on first cutting local, no grain.
I take full responsibility for her lameness. I must make it a priority to exercise her whether it's convenient or not. She also has the PSSM gene, which makes it even more important to keep her somewhat fit. Life often takes a turn that we don't expect. It's been super frustrating to not be able to ride her on the trails or sort. While I have Chloe, my miniature horse, it's not the same as riding with my friends. I will however, be teaching her and myself to drive so I can at least keep her exercised. She's in the same boat, too heavy, leaning towards laminitis.
People have generously offered horses for me to ride but it's just not the same as riding your own horse. The attempts to purchase another horse didn't work out and I'm not sure I really want to take on the expense of yet another horse. I would LOVE feedback from anyone that has been through a similar experience. Please leave your comments below and let me know what you've found as a solution.
This article sponsored by: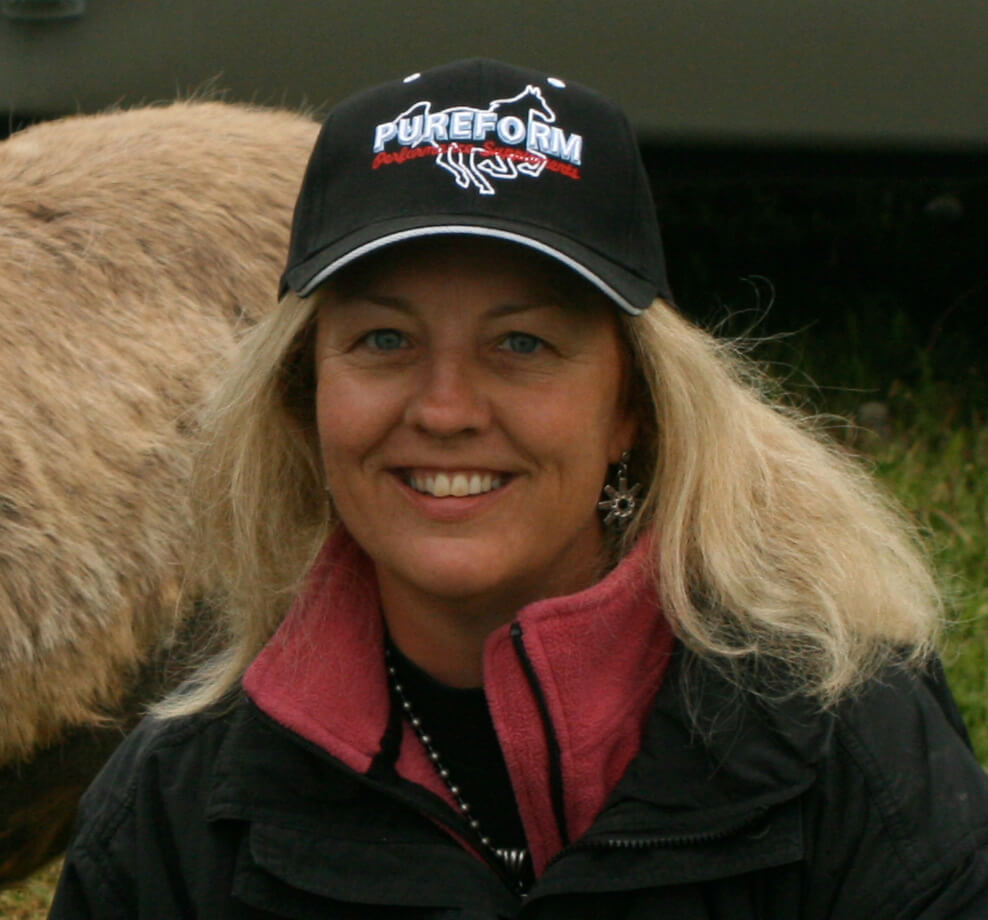 Owner/Publisher Karen's lifelong love of horses began at a very early age when she wore out a couple of rocking horses before convincing her parents to get her the real thing. That ill-tempered bay gelding, Brandy, was a challenge for the young horsewoman, but it drove her ambition to become a horse trainer. After attending Canyonview Equestrian College's Horsemanship Program, Karen realized she needed work that was a little more lucrative than training, so she took a job with Customs Brokerage to pay the bills. There, she discovered an affinity for computers and a talent for creating informative, entertaining newsletters. The Northwest Horse Source began as such a letter in December 1995, with a distribution of 1000 copies for its 12 black and white pages.  Now 25 years later, it's an online magazine and website with a reach of over 10,000 per month and growing! Not bad for the results of one woman's dream to work with horses!
Today, Karen remains involved with every aspect of the magazine and treasures the community of thousands who share a common passion. Now excited to start a version of her original magazine in Colorado!