by Laura Schonberg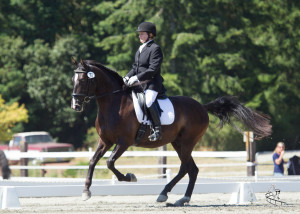 Rebecca Harold works 50 hours a week in a chiropractic practice, is raising two kids, and adjusting to married life with her new cowboy husband. Horses have allowed Rebecca Harold to take control of a life that was on the path of self-destruction. The simple act of being out of doors and finding a passion in eventing has taken Rebecca to places she never imagined.
Why I horse: I'm passionate about being outside, having my feet in the dirt and an eye on the weather. I love the partnerships with my horses and getting to know each of them individually. I find it astonishing that my horses know what I'm asking of them with minimal input. That kind of a bonded relationship makes me want to see how good I can get at riding. Lately, I've loved the challenge of using less of myself to get more out of my horse.
As a kid: When I was six, I went to an Indian Princess camp with my father. I dressed up — wore a brown synthetic animal skin dress with dangling fringe on the bottom. There were pony rides in a little circle arena and the first horse I got on was a mangy, over-worked, decrepit bay and white paint. I wouldn't get off. We were supposed to do activities all day, but that's all I did.
My parents paid for riding lessons until I was 13 and then leased a gelding, Rocky, for the summer. A year later, when Rocky was going to go up for sale, I had to put the pressure on because I couldn't let Rocky get away. Since we couldn't afford him by ourselves, we half-leased him, but I didn't like sharing my horse. I would gallop him on the trails, all the way home; when the other kid got on him, she thought he was going to kill her. Shortly after that, I got very ill and had horsing taken away.
My saving grace: After I got sick, I was uncomfortable with my body; I weighed 278 pounds, was sleeping 17 hours a day, and hated being in my skin. I was in and out of hospitals for years and had nothing to look forward to. I was poked, prodded, and told I was lazy by my dad. I was too big to walk because my feet always hurt and I was sleepy all the time. People were angry I wouldn't exercise, but I had no energy.
I became close friends with the owner of an exotic animal farm and she offered for me to move out there. I had a personal goal of getting off all my meds, but I didn't tell anyone because I didn't think they would be supportive. So I lived and worked there; I was fed dinner every night, and worked on the farm. I did animal care, chores, and taught lessons at summer camp. Living the farm life and running 5 miles a day I lost 100 pounds and eventually got off my meds.
Horses were my therapy for getting my body back to where I wanted. During that year, I was offered a job at a competitive eventing facility and jumped in with both feet. I went from being really sick to happy, healthy, running 10K's, and being a groom at Rolex.
Core of joy: The withdrawal symptoms of my meds were devastating. Riding propelled me to find a way to get better. I found a competitive horse and was then motivated to work my way into a job at a top-level barn in my area. I am proud to have gone from being overweight and sick to being an event rider. It's been an incredible joy working with my off-the-range rescue mustang. We competed in our third event two months ago. I consider us both a success!
Advice to self: Keep dodging bullets in my military crawl to get where I'm going. It's okay if I am still creating my identity. I need to stay healthy, active, and engage with people. I have to allow myself the daily realization that if I want to be a really good rider, I have to take care of myself first.
Advice to others: You can do it! You might have to be creative to fit horsing in, but if you want it bad enough, it will work out. Keep it basic and focus on the necessities in your life. It's worth the fight!
Thankful to call the Pacific Northwest home, Laura Schonberg is an educator in a local school district and is outside at her place when she isn't inside at work.  Summers are spent cow-girling at a friend's ranch, with forrays into the Cascade Mountains as time and weather permit year-round.  Winter finds her at a local barn doing dressage lessons to support her ranch riding, and re-starting horses through the county's equine rescue program.