The Benefits of Post-and-Beam Barn Designs
by Dustin Gruetter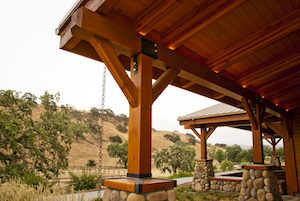 The decision to add a horse barn to your property is a big one, and can feel rather daunting once you start to review all your options. Of course, this is doubly true if you're not acquainted with the proper construction terminology.
The most common building styles you'll likely encounter while shopping around for the best barn design company are pole barns and post-and-beam barns. While both these terms share a few consonants and require the use of lumber as their primary construction material, they're actually quite different.
Post-and-beam construction calls for high-grade heavy timbers in lieu of standard dimensional lumber. Because this building style requires fewer load-bearing walls than traditional building methods, the end results are dramatic open-concept interiors and rustic exposed wood finishes. Celebrated for its structural reliability, the post-and-beam construction method results in buildings that will stay standing for 100 years or more.
In addition to their sturdy construction, post-and-beam barns are renowned for their environmentally preferable footprint. Post-and-beam buildings require a monolithic concrete slab as an alternative to traditional foundation techniques. With improved insulation afforded by the monolithic slab, energy use can be much better regulated. Not to mention the fact this increases the value of your barn by scoring LEED points!
Pole barns, on the other hand, call for chemically-treated wood posts to be set into a concrete foundation. Generally selected for their affordability and simple assembly, pole barns are often seen as a fast and cheap alternative to longer-lasting post-and-beam barns. Of course, which construction style is right for you rests entirely on the kind of investment you are looking to make.
The downside to pole barns is that they are designed to expire after 40 years or so—even with proper maintenance. That's because timber posts set into wet concrete are bound to rot, despite the intense chemical treatments they receive.
Lumber that requires chemical treatment is a problem in its own right, as the chemicals are harmful for animals, people, and the environment. Further, the chemicals result in unattractive wood discoloration, which means it must be covered with drywall rather than left on display for an elegant and rustic aesthetic.
If you need a fast and cheap horse barn, a pole barn might be your best bet. But if you're ready to make an environmentally sound long-term investment in your equine property, a post-and-beam design will always be the better option.
Visit dcstructures.com to learn more about post-and-beam barns.
Originally Published February 2018 Issue
An Oregon native, Dustin Gruetter is a serial entrepreneur with a diverse portfolio of businesses to run. His two largest roles are as president of both DC Builders, an elite design and construction firm, and DC Structures, a construction materials company. With more than a decade of leadership and management experience, Dustin lends his expertise to Eris Creative as the head of business development. Dustin lives in Portland with his wife Ilanah, son Maxton, daughter Violet, and dogs Piper and Marley.