Giant Equine Production Gallops into Portland
by Carla Christian
The equine production Odysseo by Cavalia galloped into Portland on June 30 to set up their next show on the waterfront of the Willamette River. When this big top comes to town, it's a theatre of 65 horses.
Normand Latourelle is the founder and Artistic Director of Cavalia, and now his newest show, Odysseo. "The show marries the equestrian arts, stage arts and high-tech theatrical effects at never before seen levels," he says.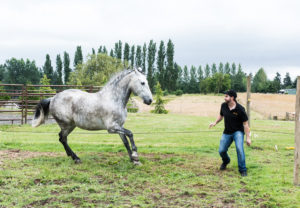 "When I decided to conceive this show, I wanted to give the city the equivalent to something better than any theatre in the world," said Latourelle.
Odysseo's 85-foot-tall big tent is the biggest touring tent in the world, supported by an 80-ton technical grid and housing an 18-ton merry-go-round and a three story mountain built with 10,000 tons of rock, earth, and sand. 173 motors run the show and the tent provides unobstructed views for 2000 seats.
"It is the most modern theatrical equipment ever used in a touring show," said Latourelle, "and includes a screen three times larger than an IMAX screen, a projection system, and 3D images."
Music for the show is always live. "It's important to have live music," said Latourelle. "It gives the pulse to the show."
"Half the time the horses are totally free and sometimes they decide to go away," he said with a grin. The musicians play to follow the horse's performance, while a stage manager coordinates the music, the lights, the projection and the curtains. The show requires 35 people for just the technical effects.
A ring the size of a hockey field is lined with plastic and covered with a sand and fiber mix footing, material designed after extensive testing to perform to the standards for the show. It must support horses doing jumping, dressage, tricks, and at liberty, provide stable support for human acrobats, and withstand being flooded with a 14,000-gallon lake in the middle of the show.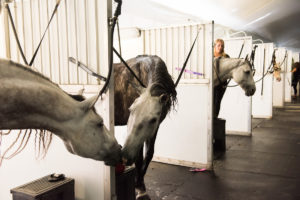 Keeping 65 horses healthy and happy while on the road and living in a big tent in the middle of cities is no easy task. The horses arrived fresh and rested from a ten day "vacation" at farms in southwest Washington.
Andreanne Dumont of Montreal is one of the grooms who travels with the performing horses. "The vacation is a lovely time for them to rest," she said. Performing with a show like Cavalia can be stressful to a horse because there is a lot of stimulus and action. During vacation they are not in training or work, just enjoying a lot of peace and quiet.
When the horses take up residence in Cavalia's big tent, though, they settle right in. "The big top is their home, so it's not really an adjustment," said groom Margaret Keers.
The horses travel between cities in 8-horse vans with roomy box stalls, where they can turn around or lie down as they wish.  Grooms travel with them, paying careful attention to their needs. When the show travels more than a two day's drive, they opt instead to fly the horses to their next location, loading all 65 equines aboard a chartered 747 jet airplane.
Twenty-three grooms and veterinary technicians work in teams with the 21 trainers to care for their horses. "Knowing the horses well and working together is a great advantage," said Keers. When grooms and trainers have this connection to their horses, they say it becomes really obvious if a horse is unhappy or not well.
Detailed attention to the horses' care helps to keep them healthy and comfortable despite their atypical surroundings. Horses are fed 4 to 5 times per day while living in the tent, to simulate their natural grazing patterns. They receive daily turnout in paddocks on the show grounds, and enjoy social time with their friends.
"The most important aspect to the horses' care is having a special relationship with at least one person," said Keers. "Every horse has a special person. It provides stability in an environment that changes a lot. They get that anchor."
Relationships underlie much of what gives Cavalia its unique nature. The horses thrive on a high level of work because of their bond with their handlers, and because they love their job. Keers described the way they love the stage and the crowd, and says she sees them stare at the audience and preen. "They parade like they were made for it," she said.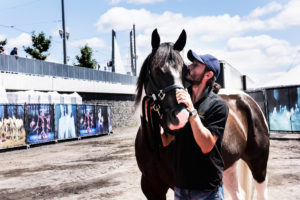 "This is something the horses really love, and we all love to do it," said Latourelle. "They are just able to be horses in the show. You can see the relationships the trainers all have with the horses, and they have fun."
"The philosophy of Cavalia," Dumont said, "is to play with horses more than to direct them. It's a fine line, but it's a crucial one. They feel like they are doing this because they want to, not because they are told to."
"Horses bring happiness to people," said Latourelle. "They bring you to who you are; you are from nature. You will see the best show in the world. I promise."
Cavalia's Odysseo features 65 horses of 10 different breeds and 21 riders. The show blends the equestrian arts, stage arts, and high-tech theatrical effects in an exploration of the century-old relationship between human and horse.
Cavalia's Odysseo performs under the White Big Top at Zidell Yards in South Waterfront, Portland. Tickets are available at www.cavalia.net, or by calling 1-866-999-8111.
This article sponsored by:
Carla Christian is a writer and photographer who uses her craft to tell stories about the people and the communities around her. Carla lives on a small horse farm near Battle Ground, WA with her husband and a family of feral cats, where she rides dressage and trails with her much-adored Shagya mare, Cantata. In her spare time she enjoys time with grown children, hiking, gardening, and reading a good book (the paper kind). Follow her on Facebook at www.facebook.com/carlachristianphotography
or visit www.carlachristian.com.