By Laura Schonberg
What I know about the women that I "horse" with is that we don't need a reason to be with our horses. With warmer, drier weather and more daylight in our waking hours, it's even easier to prioritize getting out to the barn.
During the spring many riders are preparing for their event season. Competing is a huge motivator to spend more time with our horses — on the ground and in the saddle — preparing for upcoming events. And the Northwest has something for everyone when it comes to challenging ourselves against others.
Competing requires not just being in shape physically; it also requires a tremendous amount of mental preparation. Much of competition is mental; presenting ourselves to a judge and an unfamiliar audience to be critiqued, criticized, and evaluated takes a certain amount of courage. Getting a low score, having our horse refuse a jump, being disqualified, falling off, or shying away from a cow is nerve-wracking and gut-wrenchingly disappointing. It takes what Dr. Angela Duckworth describes as "grit" to get back in our saddles.
Preparing to compete might be the push behind our training. But choosing to continue training after a heartbreaking score or a difficult test is much less about talent and much more about choosing to "show up".
Showing up might look like reviewing video, pouring over the judge's notes, talking heart-to-heart with our trainer, or having a good cry with a friend. When we choose to challenge ourselves by setting goals that go beyond our level of ability or comfort, we are the opposite of complacent. Grit is a hang-in-there attitude where we trust our potential and the relationship we have with our horse. And so, we enter for another round.
To compete, we have to be content with our own dissatisfaction and continue to hone our skills with the feel and timing of our horse's movement. Having grit is staying positive and focused after a bad round. As the rider, we must recognize that our horse is giving us what they can give at that moment. It means developing a certain kind of patience and understanding that puts aside what we want to do today, and instead meeting our horse where they are on that day. If we're honest, some rides are lousy. It's that very dissatisfaction that leads us in our determination to hone our direction and refine our skills.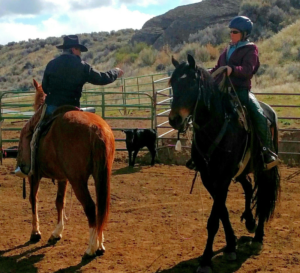 When people talk about having grit, it might bring to mind some rough edges or a get-'er-done mentality. In this series of articles, I'll discuss the power of perseverance combined with passion. One without the other doesn't go very far. Competing in the horse world requires some fierce determination to work hard toward improving our skills. It's certainly not easy; we have our thoughts and plans (whatever we define as success) and our horses have theirs (stay safe).
My hope is to never get complacent in my horsemanship, ignoring my horse's needs and putting my own interests first. I want my grit to come from a place where I'm working with my horse, not in spite of him. It's not enough to bring home points, ribbons, or standings; I want him to look forward to the time that he spends with me. Grit provides the direction for my determination, while always putting the animal on the end of my reins and under my seat first. Putting our best hoof forward in equine events means we do it together.
Thankful to call the Pacific Northwest home, Laura Schonberg is an educator in a local school district and is outside at her place when she isn't inside at work.  Summers are spent cow-girling at a friend's ranch, with forrays into the Cascade Mountains as time and weather permit year-round.  Winter finds her at a local barn doing dressage lessons to support her ranch riding, and re-starting horses through the county's equine rescue program.