Oregon Apartment Barn
By Dustin Gruetter, DC Structures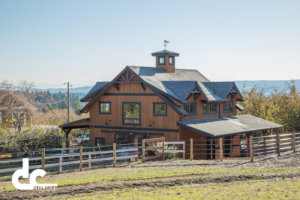 A classic post-and-beam apartment barn is a model of efficiency, making good use of one building for two purposes. This custom apartment barn in Cornelius, Oregon is a perfect example of a structure that is both a highly functional equestrian facility and a comfortable, aesthetically pleasing residence.
The lower level of this barn features two horse stalls with stall fronts and dividers from Classic Equine, with Dutch doors and turnouts leading directly to a well-fenced paddock. Two dog kennels, each with their own dog-sized door, allow these clients to keep all their favorite four-legged family members under one roof. There's also a hay storage room and a tack room for storing all their equestrian equipment.
The barn level features charming and horse-safe fixtures throughout and brightly stained Douglas fir tongue and groove wall coverings. The large sliding barn doors with windows and crossbucks were custom made for this facility.
Upstairs, 1,152 feet of living space includes a bedroom, bathroom, office, living room, and kitchen with access to a covered balcony. Nantucket dormers, each with their own timber truss, bring character to the building and additional head space to the living area. This cozy residence is full of custom built-ins that make better use of an already efficient space. Stained wood shelves and bookcases complement the exposed structural timbers while also providing extra storage and display surfaces.
Despite its rustic aesthetic, this modern barn home boasts a number of sustainable upgrades that reduce the property's overall carbon footprint. Energy-efficient upgrades include skylights to maximize natural lighting, a solar panel to offset energy consumption and an electric car charging station for hybrid and electric vehicles.
This building doesn't just make excellent use of its 32' x 36' footprint, it also looks fantastic, thanks to features like the select grade cedar board and batten siding, trim and fascia that will age gracefully. Large timber trusses on each gable end add Pacific Northwest style while a classic cupola with a weather vane adds rustic charm.
This unique barn built by DC Builders www.dcbuilding.com became the model for the Oakridge Apartment Barn Kit from DC Structures. Available in five standard sizes with hundreds of options and upgrades available, apartment barn kits like this one have been shipped to over 25 states. These post-and-beam building kits stand stronger, last longer, and look better than standard pole barns.
Learn more about post-and-beam apartment barns at dcstructures.com.
An Oregon native, Dustin Gruetter is a serial entrepreneur with a diverse portfolio of businesses to run. His two largest roles are as president of both DC Builders, an elite design and construction firm, and DC Structures, a construction materials company. With more than a decade of leadership and management experience, Dustin lends his expertise to Eris Creative as the head of business development. Dustin lives in Portland with his wife Ilanah, son Maxton, daughter Violet, and dogs Piper and Marley.