Handling Confined and Cranky Horses
by Raye Lochert, Raye Lochert Horsemanship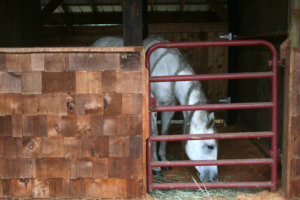 Stall time is a fact of life for many horses. Unfortunately, many horses are not safe in a stall: they may lunge to get at hay or grain, be aggressive, or just hard to catch. With a little time you can train your horse to have perfect stall manners. All our horses here at Critter Creek Ranch are taught to go stand in the opposing corner from the stall door and face me. This allows me to drop in hay or grain without being mobbed. It also allows easy haltering of the horse.
The way I accomplish this is simply by round penning the horse in their stall. While standing in the open doorway I ask them to move. I use a lariat rope so I can "reach out and touch them" without going inside. You need to be smart about this as there isn't a whole lot of room in the stall. Use as little pressure as you can to get them to move. Because of the space limitation, they can't move very far. They may simply step back and forth and that's ok; I just keep them moving until they want to turn and look at me. Once they make this attempt I relax, let them rest, and give praise. As soon as they move away or turn from me I apply the pressure again until they turn towards me. With me in the doorway, they will usually stand in the furthest corner from me. If not I work them until they are in that corner and then relax. 
In a few sessions you should be able to open your horses' stall door and ask them to go to the corner. The most important thing is to be consistent. If you're in a rush and forget then you can't blame the horse when he isn't consistent.
Published February 2012 Issue