Calm Persistence Avoids a Battle
by Marilyn Pineda
We recently held a play day on a beautiful weekend in October here on our Fire Mountain Trail Course.  Twenty-one riders turned out, ranging in ages from 3 to 85, and represented many levels of experience.
The play day was fashioned after the example of Equine Trail Sports (ETS) so our visitors could learn and benefit from their structure.  Two features of the ETS model I am particularly pleased with are that riders can choose their own level of difficulty at every obstacle and riders are not timed as they execute the challenge requirements.  Both of these features played a large role in the learning opportunities that were enjoyed by all of our play day participants!
We chose 10 of our 35 obstacles for the day's activities, and 5 judges were stationed around the course to accommodate riders as they made their way from one challenge to another.   One of our most impressive looking obstacles, Horse Knob Hill, is usually one of the easiest to conquer.  There are 2 ridges to this hill, a high ridge and a low ridge.  The task for beginners would be to travel the length of the low ridge in a steady walking cadence – something I hoped would be fun and easy for novice riders or horses to do.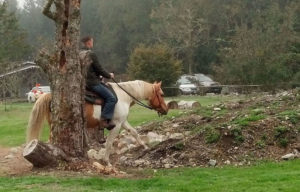 As judging started, the first rider to approach Horse Knob Hill opted to execute it at Level 1.  The rider, Eric, prompted his horse Cash forward.  Cash started walking, but then balked at the foot of the hill, refusing to go any further.  Eric and Cash looked like a horizontal yoyo, as he made at least 6 or 7 attempts to start up the hill.  Though it was just a play day, I could imagine his frustration as there were 8 or 9 people watching him work back and forth trying to get onto his first obstacle of the day.  Several pointed cameras on him. 
As I watched, it was obvious the horse was willing.  Cash wanted to try, but was new to the concept of carrying passengers over obstacles of any sort and was feeling extremely cautious.  He had not been with Eric for very long, so a trusting relationship had not yet been established and he was not at all convinced that his rider was asking him to do something that was safe.  Meanwhile, Eric kept trying.  His body language indicated that he was unsure of himself, and he asked his horse to move forward in a fairly timid and somewhat confused manner.  But he didn't give up. 
Eric kept trying.  What he had in his favor was a quiet, calm manner that exceeded his hesitancy.  He used calm energy with unwavering perseverance.  This finally prompted his horse to step out in faith onto the foot of that hill!  Everyone watching held their breath as Cash reluctantly moved forward, even taking a couple of steps back as though he was changing his mind.   At Eric's coaxing he continued forward, gaining confidence with each step.
Another great thing Eric did was maintain a nice loose rein.  Cash took advantage of the freedom he had to move.  He went forward with head lowered, looking and smelling at things as they made their way over and across the ridge, picking his head up to look around as they exited the hill at the other end—nearly picture perfect.
Eric took time and executed respect for his horse by never trying to force him.  He and Cash were ultimately successful because Eric gave him the opportunity to try.  This is exactly what I like to see with people that come to our trail course and this is why I am excited about Equine Trail Sports.  Eric and Cash would not have experienced this success if Eric had not been able to approach the challenge at his own level, or if he had been asked to move away upon coming to the end of a time limit.  We love doing our play days the ETS way!  Their motto is "Ride for Fun, Ride to Learn." 
Check them out at www.equinetrailsports.com and see how compatible they are with Riding Well Grounded.
Published December 2013 Issue
This article sponsored by: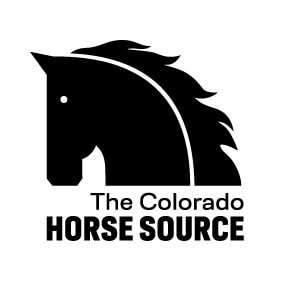 The Colorado Horse Source is an independently owned and operated print and online magazine for horse owners and enthusiasts of all breeds and disciplines in Colorado and surrounding area. Our contemporary editorial columns are predominantly written by experts in the region, covering the care, training, keeping and enjoyment of horses, with an eye to the specific concerns in our region.