Create Confidence from the Ground Up
by Marilyn Pineda, Fire Mountain Trail Course
Language changes over time, so we don't often hear the phrase "well grounded" any more. It can pertain to specific skill sets, but in general terms being well grounded refers to possessing common sense and the ability to demonstrate wisdom in social skills and life choices. Naturally, being well grounded requires an opportunity to learn such skills from parents and other teachers in life who are able to encourage and influence us to act correctly and proficiently in any given situation.
This same principle applies to us in our relationship with our horses. If you are working on the ability to trust your horse to act correctly and proficiently while you are in the saddle you first need to teach your horse how to make the right choices and responses as you handle them from the safety of the ground. The fun part of working from the ground is finding a variety of activities and challenges – such as those that may be offered on an obstacle course – that engages your horse's mind and actually allows him to make decisions. The objective is to use your influence to help your horse make the choices that will fit the desired responses.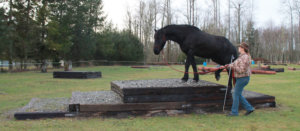 The key to ground work for confidence involves indicating what you want the horse to do – such as walking across a crackling tarp or turning a 360 on a 10' x 10' pedestal – and giving him a lead long enough to allow him to make the choice to perform it. This as opposed to leading the horse with a tight hold under the chin, forcing him to go over, across or through something where no thought on his part is needed and simple obedience is expected. When a request is indicated it gives your horse the opportunity to figure out what is being asked. He then has the choice to do it and can enjoy the satisfaction of success for each correct choice while pleasing you in the process!
Your responsibility in all of this is to know how to ask him to do things on a loose lead, give him the opportunity to make the choice to do it, and to remember to only ask him to do things that begin with simple levels and progress in difficulty at a rate that is comfortable for him. If you provide an environment where your horse can depend on you for that kind of consistency he will have what he needs to increase trust in you and confidence in himself. 
In your relationship with your horse, the process of each successful effort on his part not only allows him to build his trust in you, it also allows you to build confidence in him. From the safety of the ground, you are able to see your horse make the effort to understand what you are asking him to do, and depending what you are asking, you are able to see him find the courage to perform the task. You can carry the knowledge of what you see from the ground with you when you climb up into the saddle and the faith you put in each other continues to grow. This is where true pleasure between you and your horse begins to unfold; this is where we begin to ride well grounded.
Fire Mountain Trail Course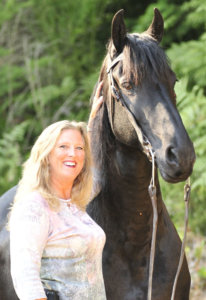 A lifelong Skagitonian, Marilyn Pineda started a small farm of Dutch registered Friesians near Sedro-Woolley, WA, with a desire to offer confident, well rounded foals that would provide the greatest enjoyment possible to the people who would be purchasing them. Wanting to instill excellence towards dependable working abilities, Marilyn began simple natural horsemanship ground work activities with her foals at a very early age. Inspired by the fact that her own enjoyment comes primarily from trail riding, and pursuing the belief  that continued purposeful ground work would help to maximize successful long term careers for her foals, she began building  trail-related challenges to stimulate their minds as she worked with them in-hand. Growing from that beginning, Fire Mountain Trail Course is now a virtual playground of engaging obstacles available for use by visiting equestrians and their horses of any age or discipline. Marilyn offers workshops upon request, and also invites other trainers to make use of her facility. For more information visit www.firemountainfriesians.com or www.facebook.com/FireMountainFriesiansNTrailTraining.
Follow Marilyn monthly on the NW Horse Source blog as she shares tips for trail/obstacle training—www.coloradohorsesource.com.
Published May 2013 Issue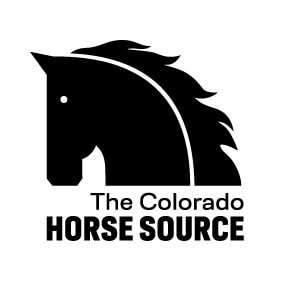 The Colorado Horse Source is an independently owned and operated print and online magazine for horse owners and enthusiasts of all breeds and disciplines in Colorado and surrounding area. Our contemporary editorial columns are predominantly written by experts in the region, covering the care, training, keeping and enjoyment of horses, with an eye to the specific concerns in our region.