Staying Connected on the Trail
by Marilyn Pineda, Fire Mountain Obstacle Course
I was recently reminded how great it is to have well versed ground communications with my horse while out on a trail ride with a friend. We had just completed the clearing of a beautiful trail loop on a wooded hillside, and had set out with much anticipation to ride it in its entirety for the first time. The bottom of the loop follows an old logging spur with a gorgeous view of Skagit Valley, and the top of the loop follows a well-established critter path through the woods, crossing the face of several gentle ravines and streams. We rode to the west end of the loop and proceeded east, savoring the pleasure of valley floor scenery as we followed the grassy, partially wooded spur to the far end of the loop. Then we headed up into the more forested portion of the loop, and that's when the real adventure started to unfold.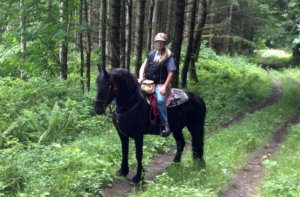 I should mention here that my trusty riding horse, Gemma, is a fairly tall 10-year-old Friesian mare – a true work horse, willing to give her all at a steady pace for whatever is asked of her. But, she is NOT blessed with the nimble skills of a mountain goat. With that disclosure, the fact that our newly cleared trail was not yet ready to sustain the passage of horses became quickly apparent as my friend and I began to make our westward trek along the one mile stretch that would take us back to the beginning of our wonderful loop. There were several areas of soft soils along the face of the hillside that would not hold up to the weight of the horses and the stream crossings we had sculpted at each ravine were simply too narrow or too steep to offer the feeling of comfort and safety as we passed through with the horses. Things looked much different from horseback than they did when we were on the ground with our work parties and tools! 
We had gone about a quarter mile when I decided to dismount, believing it would be the best thing to do for both myself and my mare. My friend, with nerves of steel and a horse with more agility than my own, stayed mounted and took the lead as we continued to make our way along the trail, still determined to check it out all the way through and develop a plan for improving it for future horse use. Gemma and I spent the next 90 minutes in constant communication as I used my 12' lead rope to stay connected with her while we made our way along the trail. In addition to simply leading her, I frequently hiked along on her off-side to put me up hill from her and avoid the risk of being on the down side in the event of a fall. I was also quite often behind her, sending her forward along some of the more awkward sections of trail.  Hiking the trail with Gemma instead of riding her took quite a bit of physical effort, but I enjoyed it! My favorite part was the satisfaction of how we crossed the various ravine streams – I was able to ask her to stand on one side while I crossed on ahead of her, and then brought her up to me again once I was safely on the other side. The communication I had with her might have sounded something like, "Whoa there, now come here!" It all took time, but we were able to safely and successfully enjoy our adventure. 
Important training tools I used with Gemma that day on the trail (which we named The Longest Mile) included the ability to lead her on a loose line, send her ahead of me in an indicated direction, have her stand and wait as I moved away, and asking her come to me across an obstruction. These tasks would not have been possible without prior preparation in on-going ground work practice at home. This is the practical application of applying "well grounded" horsemanship principles.
Published August 2013 Issue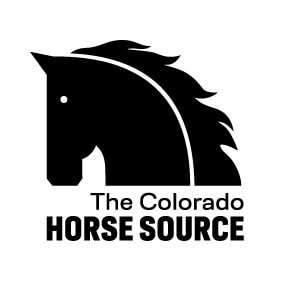 The Colorado Horse Source is an independently owned and operated print and online magazine for horse owners and enthusiasts of all breeds and disciplines in Colorado and surrounding area. Our contemporary editorial columns are predominantly written by experts in the region, covering the care, training, keeping and enjoyment of horses, with an eye to the specific concerns in our region.