After 30 years as a communications and external affairs director for corporate and non-profit agencies, Kellie Tormey knows a few things about sharing ideas and working with others. She is the mother of two and wife of a professional football coach. She has come full-circle in her horse journey as she considers the next phase in her life.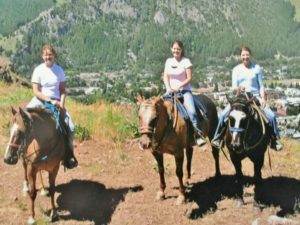 Why I horse: Being passionate about horses is how I'm made. As a kid, I read every single horse story I could get my hands on, from Misty of Chincoteague to every Black Stallion book. Where I grew up in north Seattle is not horse country. But through the generosity of my mom and aunt, I rode into my middle teens.
In college, my job was getting my degree and paying my way through. Things accelerated from there on a professional fast track. I worked for a variety of big companies in media relations and corporate affairs. At the same time, my husband was coaching for the Huskies, I had two little girls at home, and I was very busy. What was absent was horses. I decided as a young working mom I deserved a tiny window of time that was just for me.
Evolutions: My first horse as an adult was a thoroughbred off the track. As he aged, a woman called me one day, out of the blue, because she heard I was looking for a dressage horse. She had just picked up a gelding from an auction feedlot, and she asked me if she could bring him to me. As it turned out, Tralee was a big boned gelding of uncertain breeding that was a total dream.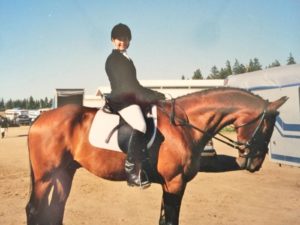 Now my life is in a new phase. I've competed successfully in dressage with a well-bred warmblood, but recently another horse caught my attention. I'd been following an auction site and saw a mare a year ago that I could not get off my mind. I had told myself if I ever got another horse there were two requirements: it had to be from a feedlot, and it had to be a mare. When I noticed that this particular mare was no longer on the site, I called and inquired about her status. To my great relief she had been adopted.
As a woman whose life has depended on others' choices as to where I live, the community I'm involved in, and the resources available to me, a horse that needs a home has been the driving force behind my next evolution.
Horses are my home: Because of my husband's career, we moved frequently. Horses gave me the opportunity to become instantly involved in a community of women at a barn.
With a series of horses over the last 20 years, I've realized that making the right decisions for my horse is my number one priority. I admire different disciplines — everything from the teachings of Ray Hunt to the Paniolo cowboys in Hawaii. The big question is, how am I going to fulfill what my horse needs in order to have a balanced and happy life? I don't need to win ribbons or go to a clinic with someone famous. What I do need is to make the right decisions for my horse because my horse is where my heart is.
Advice for myself: When I feel conflicted and need to make a decision about what's right for myself or my horse, I always choose what's right for the horse and let that guide my journey.
Advice for others: Learn from teachers who are in the horse business to continue a legacy of horsemanship passed down through ages. In the end, the greatest teacher is the horse, so learn from someone who respects and honors that. We need to give horses the opportunity to be the horse they deserve to be.
Thankful to call the Pacific Northwest home, Laura Schonberg is an educator in a local school district and is outside at her place when she isn't inside at work.  Summers are spent cow-girling at a friend's ranch, with forrays into the Cascade Mountains as time and weather permit year-round.  Winter finds her at a local barn doing dressage lessons to support her ranch riding, and re-starting horses through the county's equine rescue program.