I Never Thought I'd Find the Right Horse Again
As I'm writing this, today was our first trail ride. My new horse, Hersheys Chocolate Chip (Chip), was quite a find. Riding through the trails at Homestead Park was so enjoyable. Chip was quiet, eager, and a joy to ride. I had no intention of buying a horse before winter, but the right deals never seem to happen when it's convenient. I've been riding a borrowed horse for a couple of months, which has worked out fine, but it's never the same as having your own horse.
Chip was a referral from my farrier. She really liked him and thought he might be a good fit for me. I haven't ridden much since moving to Colorado. I got a few rides in on April before she passed away, but I just wasn't motivated to ride much. My neighbor gave me the encouragement I needed to get back in the saddle. My interim horse, Chance, has been a great confidence-builder for me but has some limitations on what he can do. When Chip came along, I wasn't even really looking.
Part of my motivation to find a gentle horse was my intention to return to being involved with a veteran's program, at the very least, volunteering my time to share my horse(s) with veterans and their families. I did this back in Washington for many years. I found it very rewarding and priceless to see how much enjoyment and peace comes from being near a horse.
I'm a firm believer that if you want something badly enough, and it's in alignment with God's plan, it will happen. Belief is a powerful thing. If you believe in something strong enough, the universe responds! If you're looking for a horse but feeling discouraged due to cost or even fear of riding if you haven't done so for a while, decide exactly what you want and don't stop until the right horse comes along. I was able to get Chip for an affordable price because the owner was more concerned about him going to a good home than the amount of money she could probably get for him. She even came and saw our place before signing off.
Chip is a kind horse, incredibly gentle, and easy to be around. I'm still pinching myself that I found such a nice horse. While I miss my April, Chip has found his way into my heart. I look forward to sharing him with our local veterans and their families. I'm feeling very fortunate to have found such a good boy. This issue of The Colorado Horse Source is proud to be the official publication of the Rocky Mountain Horse Expo, running February 23–26, 2023. I hope you'll make a trip out to the National Western Stock Show facility and stop by our booth to say hi!
"There is nothing impossible to him who will try."

Alexander the Great – 356 BC–323 BC, King
See this article in the January/February 2023 online edition:
Colorado Horse Source Magazine's January/February 2023 Issue is HERE!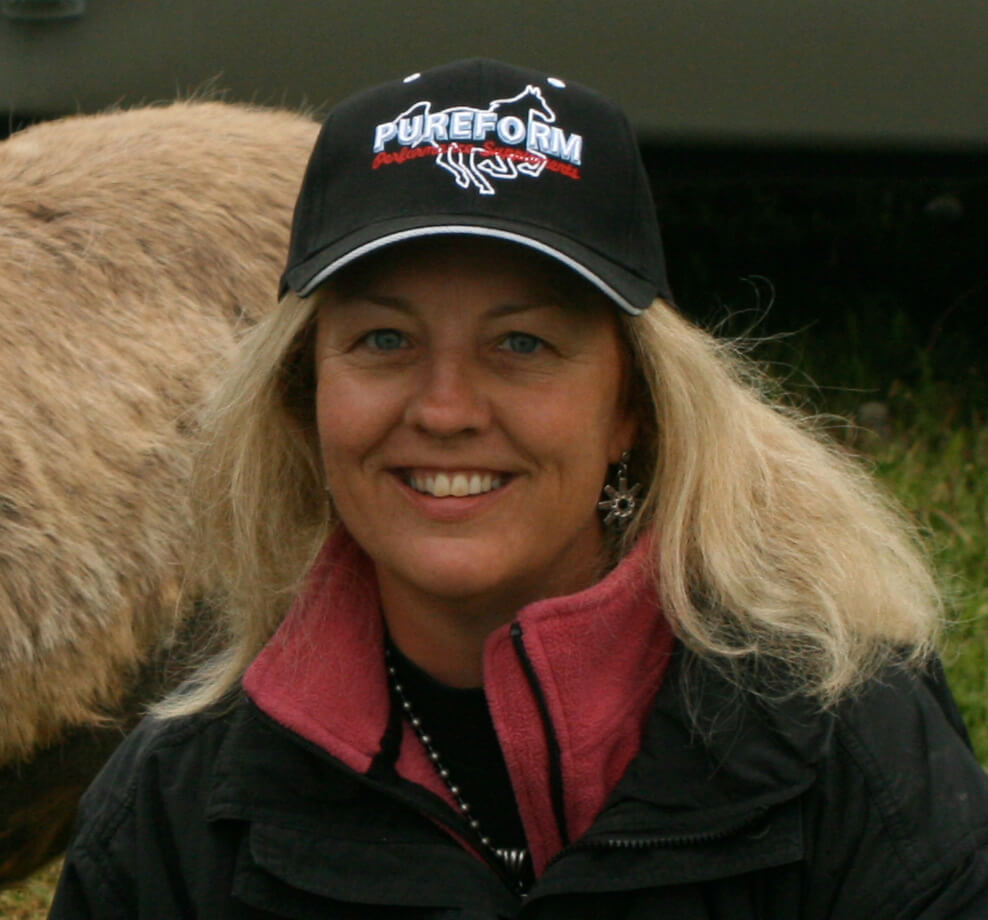 Owner/Publisher Karen's lifelong love of horses began at a very early age when she wore out a couple of rocking horses before convincing her parents to get her the real thing. That ill-tempered bay gelding, Brandy, was a challenge for the young horsewoman, but it drove her ambition to become a horse trainer. After attending Canyonview Equestrian College's Horsemanship Program, Karen realized she needed work that was a little more lucrative than training, so she took a job with Customs Brokerage to pay the bills. There, she discovered an affinity for computers and a talent for creating informative, entertaining newsletters. The Northwest Horse Source began as such a letter in December 1995, with a distribution of 1000 copies for its 12 black and white pages.  Now 25 years later, it's an online magazine and website with a reach of over 10,000 per month and growing! Not bad for the results of one woman's dream to work with horses!
Today, Karen remains involved with every aspect of the magazine and treasures the community of thousands who share a common passion. Now excited to start a version of her original magazine in Colorado!