Conquering the Straddle Pole
by Marilyn Pineda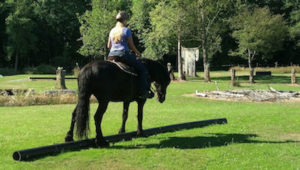 It is the Year of the Horse and we've definitely been having fun with horses at Fire Mountain Trail Course. A rigorous schedule of trail challenge events, training and practice has helped with mastering a variety of obstacles already this year. However, there is one particular challenge we have which visitors to the course have developed a love/hate relationship with: The Straddle Pole.
To correctly navigate this obstacle requires straddling a pole that is 3-4 horse lengths long (not wider than 6 inches in diameter) and walking along the pole with both left feet on the left side of the pole, and both right feet on the right side of the pole. Ground training for this challenge is important; the ability to communicate to each foot, individually, is essential.
---
HORSE TRAINING TIP: The key to schooling your horse to move one foot at a time is to slow down so you can allow him time to process what he is doing and to realize what he is doing right! Remember that horses communicate with eye contact and body language.
---
To begin, use a safe pole with no burs or bits poking out of it. Position your horse at one end of the pole, with his front feet on either side near the pole, but not yet straddling the pole. Straddle the pole yourself and face the horse with a comfortable, gentle hold close to his chin. Look at the right front foot first and carefully pull your horse toward you in a straight line until he starts to shift his weight. Be ready to release your pull as soon as there is just enough momentum in his movement to bring the front foot forward. I even alternate my visual focus back and forth from looking my horse in the eye, to looking at the foot. Then stop, let him rest and process what he has just done.
Next, look at the left front foot and carefully pull the horse toward you. Be ready to release your pull as soon as there is just enough momentum in his body shift to bring that foot forward, too. Then stop, let him rest and process what he has just done.
Repeat these steps with the front feet and also the back feet as they approach the end of the pole while you are moving your horse forward. During the entire process be careful to go slowly and give focus to whatever foot is next in line to be moved. Another helpful suggestion would be to find a word that you would like to use each time you ask him to be specific in his foot placement (I use the word "timber" and my mare now associates that word with this exercise). If and/or when your horse missteps, the plan of action is to stop and use slow, gentle, one-step-at-a-time communication to correct his position. It is best to bring the horse back to where he "should" be, rather than to start all over from scratch.
Learning to walk the straddle pole will be a slow process and one that requires patience. Continue working on it from the ground until your horse is able to understand the process and move forward in a confident manner before trying it from the saddle. This challenge will help you in these areas: communication with your horse, controlling each leg individually, taking one step at a time and improving your horse's awareness of where his feet are. It also positions you further down the path of Riding Well Grounded!
Published September 2014 Issue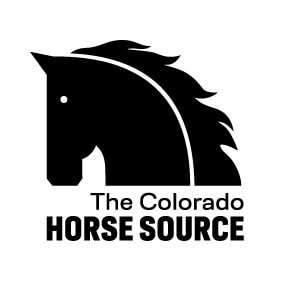 The Colorado Horse Source is an independently owned and operated print and online magazine for horse owners and enthusiasts of all breeds and disciplines in Colorado and surrounding area. Our contemporary editorial columns are predominantly written by experts in the region, covering the care, training, keeping and enjoyment of horses, with an eye to the specific concerns in our region.